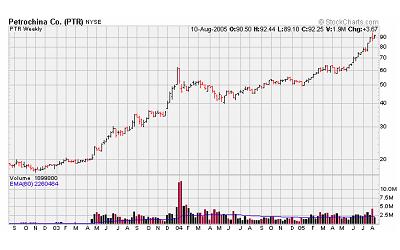 This post is dedicated to Buddy Larsen's marvelous
commentary
.
Housing is down (after several years of double digit returns!), retail is weak, oil is bound to go back up, inflation is high-ish, the deficit continues to grow, is it the End of Capitalism As We Know It? Or are we perhaps in a mini-boom, doomed to failure and dissolution as surely as the Great Tech Crash of 2000-2002? Are the Chinese about to destroy the currency, just in time for us to witness the final fall of Social Security?
I have a different view. There's a lot of private money sloshing around (demand = HIGH) and the supply of stock in the US equity markets is diminishing as companies consolidate, buying up rivals, and continue to buy up their own stock at a record pace (supply = LOW).
The stock market is headed higher.
P.S. Remember the cardinal rule of predictions: you can make a prediction or pick a timeframe, but never both at the same time.